Mining equipment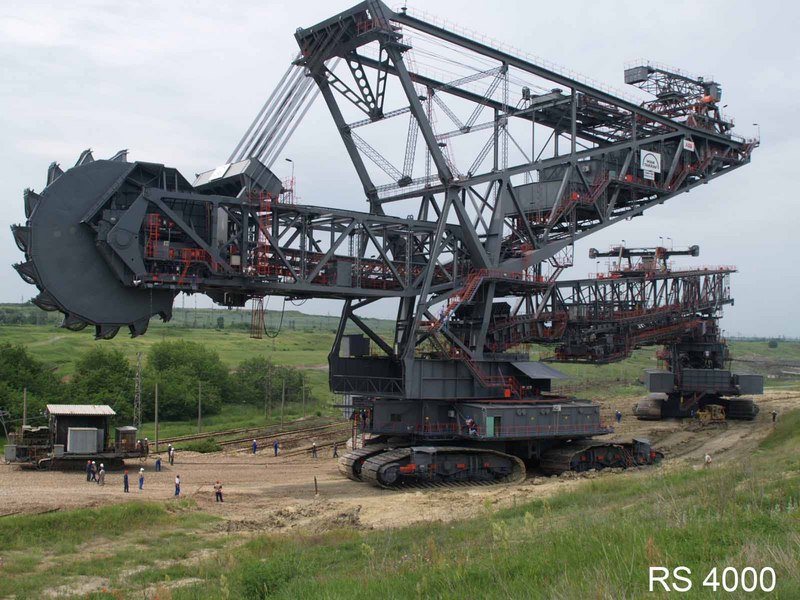 The heavy mining equipment (HME) includes bucket-wheel and crawler-mounted excavators, spreaders, rubber belt conveyors equipped with drive and tail stations.
The main part of the HME are the bucket-wheel excavators: SRs 470, SchRs 1200, SRs 1301, SRs 2000, SRs 4000, K 400, KWK 400 and KWK 2000 – there are a total of 28 pieces of them at the Company.
Their main operating part is the bucket wheel which has 8 buckets at SRs 470 excavator, 8 or 14 buckets at SchRs 1200 excavator, 14 buckets at SRs 2000 and 16 buckets at SRs 4000 excavators.
Six bucket-chain excavators of the ERs 710 type are deployed at the extraction sections of the three mines, and they are used to extract coal from a depth of up to 15 m. below the level at which the excavator is positioned.
Other kinds of HME machines used for implementing technological operations include spreaders of the As 5000, As 6300 and As 12500 types. These are basic dump formation machines. There are 12 pieces of spreaders at the Company.
A bucket-wheel excavator together with a rubber belt conveyor and a spreader form the so-called Overburden Removal, Transportation, and Spreading Facilities Unit (ORTSFU).
There are 3 ORTSFUs at Troyanovo-1 Mine; 5 ORTSFUs at Troyanovo-North Mine and 4 ORTSFUs at Troyanovo-3 Mine.
A very important part of the mining equipment is the technological machinery, consisting of bulldozers, turndozers, front-end loaders, machines for belt conveyor cleaning, shovel excavators. It ensures the better and more efficient operation of the heavy mining equipment by being deployed in laying road routes, planning works, etc. Carrying out mining activities and regular coal supply are impossible without a reliable bulldozer fleet.